Hi sweet friends!!
Sorry for quite the absence around this little corner lately. I've been busier than I have ever been this summer, but I'm back and feeling really inspired. I hope it lasts! But for today I'm leaving you with some letters.
Dear Friday,
I'm so excited to see you, even if its a 100% chance of rain toady. But I'm determined to go on my hike with some incredible middle schoolers, and enjoy God's beauty in the Smoky Mountains. We had planned on getting wet anyways, so rain won't be stopping us!
Dear friends,
Wow you sure do keep me busy and moving. I love that we are continually playing volleyball, kickball, or swimming. I'm so blessed by our friend group and all the fun we have.
Dear Church,
You are the sweetest little family. I enjoyed seeing so many faces Wednesday night at our indoor cookout to celebrate the 4th. Even with a damper in the plans everyone was so joyful to be together fellowshipping.
Dear best friend,
our time spent together this week was precious. Watching P.S. I Love You was sweet bliss. And my morning devotional is that much more lovely when we do it together and sip on the world's best coffee.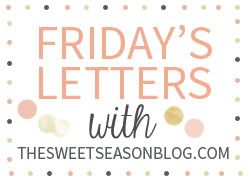 Hope you readers have a great weekend!